22 Day Cook Islands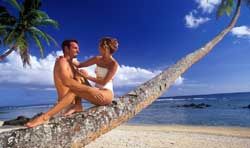 22 Day Cook Islands
Trade in the cold winter blues for an escape to the Cook Islands! Our Long Stay Getaways will have you sitting on a beach sipping a cocktail instead of freezing away. During cold Canadian months, this exotic paradise has hot summer days. Take advantage of long stay values, quality accommodations and endless fun.
Includes:
21 nights Rarotonga, Moana Sands Beachfront Hotel; Beachfront Studio INCLUDES
...

Travel2 was created by the partnership of two renowned travel brands: Newmans Vacations and ATS Tours. Combined with Islands in the Sun, our sister company specializing in romance travel, we bring more than 200 years of experience in designing customized travel itineraries to Australia, New Zealand, the South Pacific Islands and Asia.
We understand that no two travelers are alike so we offer endless travel choices for first-time visitors and unique, "off-the-beaten-path" itineraries
...